Experience LED Light Therapy Used By Professional Dermatologists from Home
SAY GOODBYE TO WRINKLES, FINE LINES AND ACNE FOREVER
Real, Visible Results In Just 2-3 Days!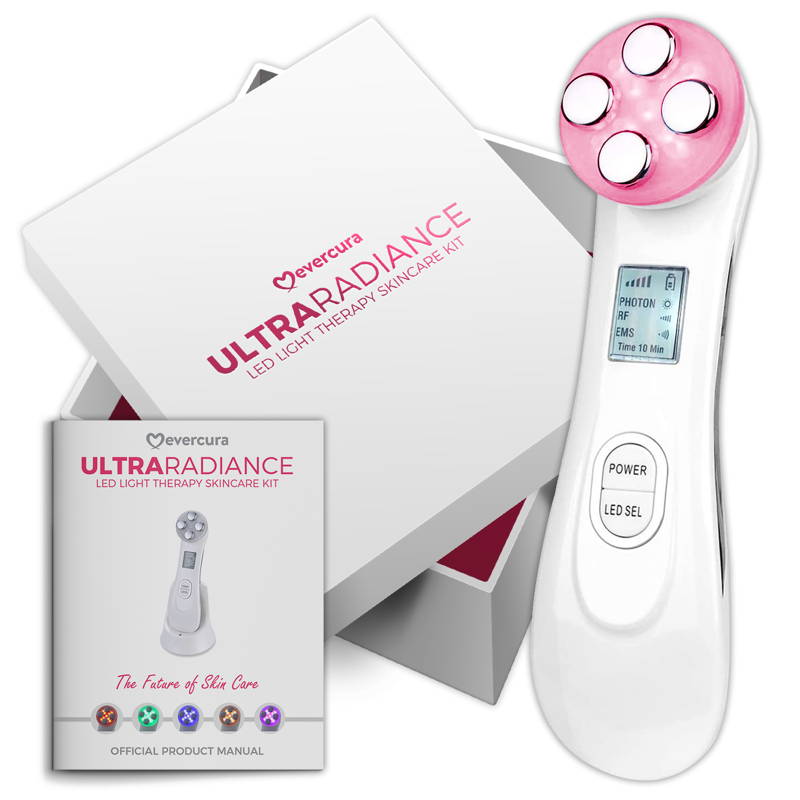 UltraRadiance™ 5 in 1 Light Therapy Anti-Age Kit
You Deserve Beautiful, Glowing Skin
UltraRadiance™ 5 in 1 Anti-Aging Kit uses the latest therapeutic LED technology in skin care. The technology has been around for decades, and is commonly used by dermatologists and estheticians as an in-office treatment to help reduce inflammation after facials, minimize breakouts, and give an overall boost. However, in-office treatments cost $250 - $350 per session.
With UltraRadiance™, you can experience the same benefits and more right in the comfort of your home. "LED light is one of the best treatments because it boosts collagen in the skin, minimizes fine lines and wrinkles, speeds up healing, and increases circulation for that amazing glow."
UltraRadiance™ utilizes 6 different color LEDs, each are scientifically proven to have it's own use or benefits. For example, "Blue LED light kills acne-causing bacteria to clear up existing breakouts and prevent new ones from forming."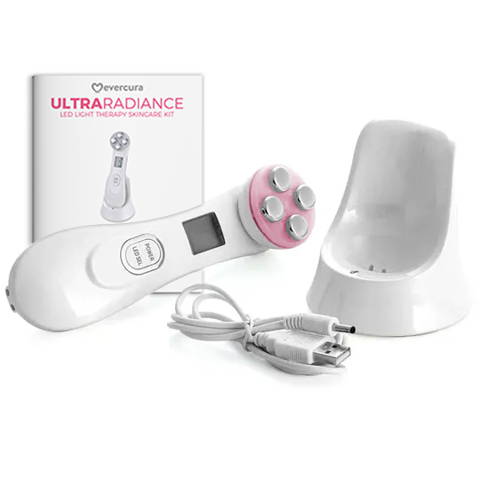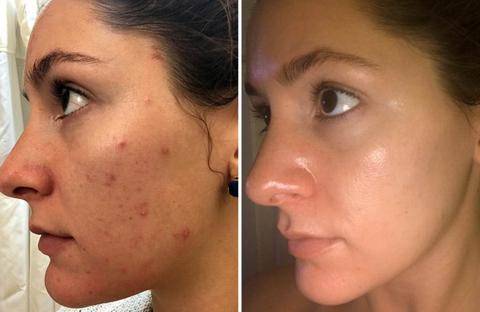 UltraRadiance™ has five different built-in color LED lights that you can conveniently switch through, each color treating the skin in different aspects.
RED: Anti-Aging, Promotes Collagen, Tightens loose skin, Increases elasticity, Revitalizes Cells, and Improves Blood Circulation.
BLUE: Sterilizes Acne-Producing Bacteria, Shrinks Sebaceous Glands, Reduces Inflammation & Scarring, and Promotes Oxygen.
GREEN: Reduces Hyper-pigmentation, Balances Oily Skin, Relieves Mental Stress, and Promotes Lymphatic Drainage.
PURPLE: Anti-Aging, Sterilizes Acne-Producing Bacteria, Reduces Inflammation & Scarring, and Reduces Fine Lines & Wrinkles.
YELLOW: Stimulates Red Blood Cells, Reduces Pigmentation, Balances Skin Texture, Reduces Fine Lines & Wrinkles, and Reduces Redness.
UltraRadiance™ Technology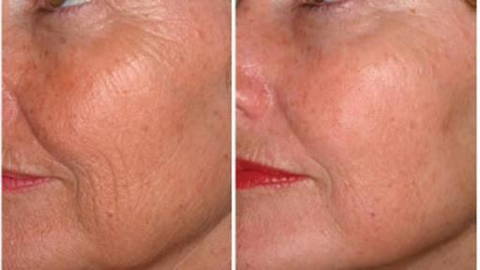 ✔ Includes detachable microcurrent electrodes. These electrodes emits extremely low-voltage electrical currents (hence 'micro' current), which mirror your own body's electrical currents, on a cellular level to repair damaged skin and stimulate collagen and elastin production.
✔ Unlike other LED Devices where you have to sit and wear a mask, UltraRadiance™ is designed to be used quickly and easily over your face at your own pace.
✔ With state-of-the-art LED technology, UltraRadiance™ includes mesotheraputic benefits to help your skin absorb up to 10 times more than normal. This means more effective creams and serums.
✔ UltraRadiance™ is expertly engineered to increase collagen production in the skin, whilst also killing harmful bacteria which causes breakouts. Get more elastic, younger-looking skin.
Light up your skin, restore a youthful, blemish-free complexion. Start using UltraRadiance™ Today!
What our customers think: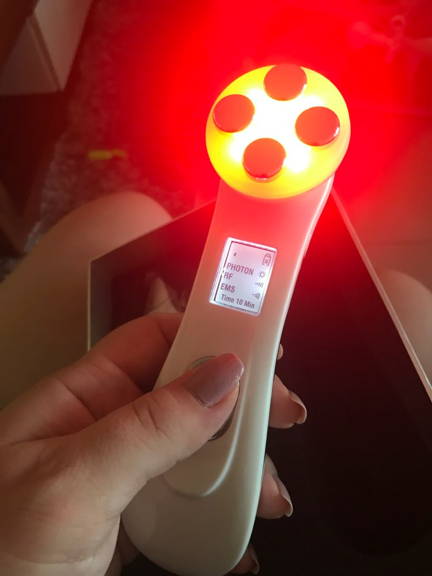 I love this device and I have been using it every day since it arrived. I often use red which promotes collagen production by increasing blood circulation in the area.
Yes, I did my research! It penetrates into your skin and helps promote tender skin, prevents wrinkles, and repairs damaged skin.
I'll try other colors after I learn what it does.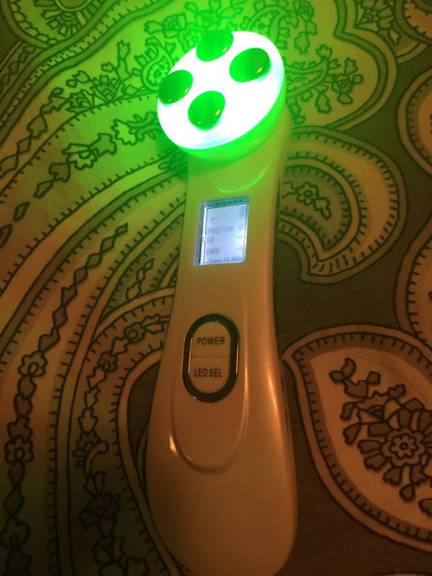 Thumbs up to this amazing product! I have tried a few other LED masks and devices but nothing compares to this!
It has more LED intensity, and you can feel the benefits almost immediately, you can easily change the color and vary your pressure manually.
Absolutely worth every penny!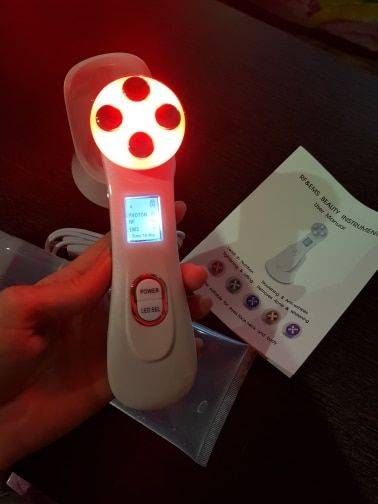 I purchased UltraRadiance together with my sister because the reviews were compelling and this device was a great deal compared to others. The box and instructions are professional and all of the lights work very well.
I'm on my third week now and it still works great and I'm seeing incredible results! My friend, who is also or was (lol) my esthetician saw me using the device when she visited and she was surprised about the quality compared to what she's saw and researched on the market.
I'd recommend purchasing here if you want to try LED light therapy.

Of course it works! LED therapy has been around for many years but it used to be only available in clinics and costs a lot.
I chose to purchase UltraRadiance because it has advance led tech and more leds than any other led masks or device.
I have nothing bad to say about the product, quality is excellent, it's very easy to use and you feel amazing after treatment. I get 5 different treatments in one device, price is affordable. I just love it!
We are pleased to offer a full support guarantee with your purchase. If you have a problem, we will do all we can to help. If you're unhappy - we will make it right. Your complete satisfaction is our goal.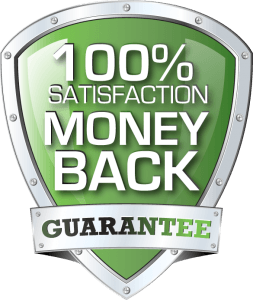 Light up your skin, restore a youthful, blemish-free complexion. Start using

UltraRadiance™ Today!
© 2020 Copyright evercura. All Rights Reserved.
Get an Extra 20% Discount Coupon
Enter Your Email Address to Claim